Choosing vinyl fencing for your Denver property is a wise choice. Vinyl wins the hearts of more homeowners because it is versatile and durable, capable of withstanding the harsh Denver winds. It comes in an assortment of awesome styles and colors so finding the right options to accentuate your home is easy. Homeowners appreciate the easy maintenance and long lifetime as well. Vinyl fencing mimics the look of wood at a fraction of the cost. And, of course, vinyl fences add aesthetic appeal and value to the home, which is nice should you decide to sell the property in the future. vinyl mimics the look of wood at a fraction of the price. It's attractive thanks to the numerous traditional and creative styles, designs, and colors available and certainly adds curb appeal to your property. Vinyl won't rot like wood fencing and requires little maintenance over the years. There's little wonder why vinyl fencing is the go-to choice for so many homeowners.
Yet, the decision to install vinyl fencing at your home is the first of many you must make before a fence erection begins. You see, vinyl fencing comes in a variety of styles, colors, textures, and designs that you must pick from to ensure it meets your needs and brings the elegance and appeal to the home that you want. Choosing from the available options can be tricky, but rest assured Denco is here to ease the process.
The vinyl fence surrounding the neighbor's house may look charming on their property, but have the opposite effect at your home. It is best to research vinyl fence options based on your specific needs, home colors, and budget. Reaching out to fencing experts never hurts, either, since you'll get industry advice from those who know best.
Learn more about vinyl fence options below, then call Denco if you have additional questions, want a vinyl fence estimate, or simply want to learn more about this popular fencing style.
Vinyl Fence Options
Homeowners can choose from a variety of vinyl fence styles to install at their Denver property. Whether you need a fence that draws eyes in your direction because it looks so amazing or wants added protection and security, there's a vinyl fence for your needs!
This list examines some of the most popular types of vinyl fences available for residential installation.

Privacy Fence
Without gaps between the pickets, privacy fences give homeowners the ultimate discreteness when they want comfort knowing neighbors and others cannot see what's going on inside the home. This popular fence style also serves as a boundary marker to separate homes from one another, help keep pets and kids secure on your property, and add elegance to the home.
Privacy fences come in assorted colors, textures, and styles. You'll surely feel more secure and comfortable when you are at home if a privacy fence is in place.
The national average price of a vinyl privacy fence is $4,375. Perks of installing a vinyl privacy fence include:
Nearly maintenance-free
Stronger than wood
Can withstand the strong winds in Denver
More affordable than wood
An average lifetime of 25-years
Semi-Private Fence
The semi-private fence designed with vinyl material gives homeowners more privacy than a typical fence but still offers a view for homeowners that hate the idea of feeling enclosed in their own home.
The fence looks similar to a privacy fence. The biggest difference is that a semi-private fence has openings that a privacy fence does not. The panels are also wider to give added views -and sunlight.
The semi-private fence typically comes in 3 or 5-foot heights but can be customized to larger sizes in some cases. Since it does not completely encapsulate a home, it's usually a friendlier option than the privacy fence.
Expect to incur a cost of about $2,600 to install a semi-private fence at your Denver home. Get a Denco quote to learn your exact semi-private fence installation costs.
Benefits of a semi-private fence include:
Less expensive than a privacy fence
Does not feel enclosed or like such a tight space
Post & Rail Fence
Post and rail fences are those seen on ranches and farms throughout Colorado. The fence style is simple, designed to keep cattle and other farm animals.
Post and rail fences usually come in traditional colors like wood and white but other color options are available as well. You can also choose the number of slats and the distance apart to create a more useful and practical fence for your needs.
Homeowners spend an average of $1,200 to $3,000 to install a post and rail fence on their property.
Benefits include:
Easy to install
Competitively priced
Durable
Easy-to-customize
Picket Fence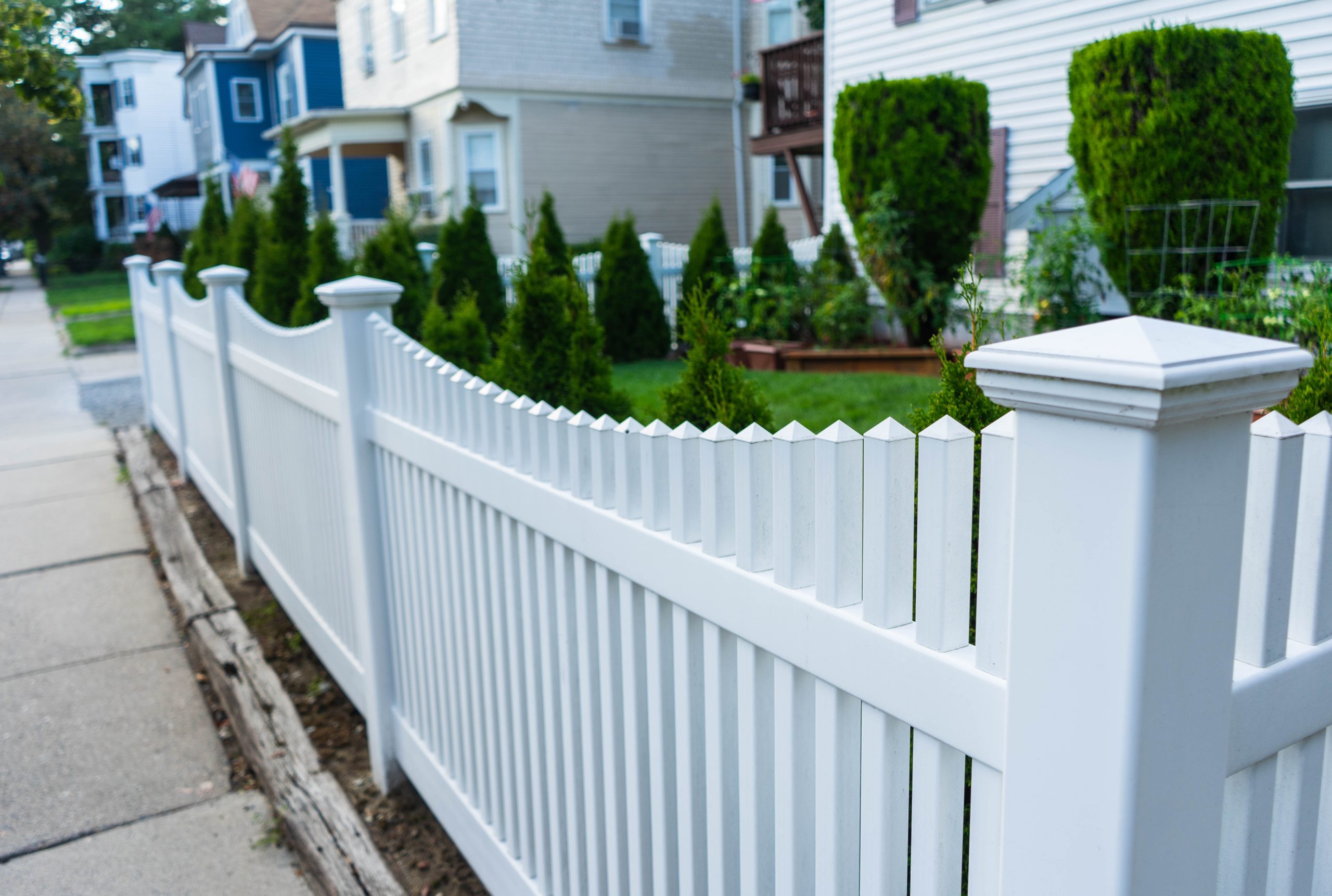 As kids-and sometimes well into adulthood- many of us dreamed of owning a home with a white picket fence. Now is your chance to make dreams come true with the installation of a white picket fence in Denver.
A picket fence gives homes a classic style combined with extraordinary elegance. This style of fence isn't designed to add privacy but does work well to keep kids and pets on your property. Instead, the picket fence is more of an aesthetic addition.
Picket fences typically come in 3 or 5-foot options at a cost of about $3,056 although prices can run lower or higher than this mark, depending on the length of the fence, location, and other factors. A picket vinyl fence is an affordable option that can make your dreams come true.
Choosing the Best Vinyl Fence for Your Property
With so many fence types available, every Denver homeowner can find a style compatible with their needs. Here are a few more pointers to consider to further ease the vinyl fence selection process.
Understand Your Needs: Understand your specific needs for the fence, which can be anything from added privacy to enhanced curb appeal. Understanding the reason for fence installation in Denver ahead of time ensures you get a fence that accommodates those needs. The good news is that most fences serve multiple benefits.
Set a Budget: Determining the budget for fence installation can save time, frustration, and other hassles. With a budget in place, you know exactly how much money you can spend on your fence, minimizing the choices and headaches.
Check With the HOA: If you live in an HOA area, check with the organization to learn about any restrictions on materials, designs, or colors during Denver fence installation. Making sure your fence meets its standards ahead of the start of the project minimizes headaches.
Avoid Big Box Retailers: Big box retailers like Home Depot and Lowes offer vinyl fencing panels at substantially lower rates than Denver fencing companies. The reason for the cost difference is the quality of products. Do not compromise quality to save a few dollars and avoid buying from big-box retailers.
Fence Contractor: The Denver fence installation contractor selected to complete the project impacts the overall quality and your ultimate satisfaction. Research several contractors before signing a contract. Ensure you are confident in the fence contractor before hiring them to complete the project.
Still unsure which vinyl fence best suits your property? Get expert advice from Denco, one of the leading fence companies in Denver. We want your fence to accommodate your every need as it delivers complementary power to your current home design.
Call 303.223.6902 to speak to a Denco fencing expert to learn more about vinyl fence options, request a quote, or for answers to your questions.
Need an expert opinion? Talk to our experts today!
When you talk to our experts at Denco Fence Company, we'll help you compare fence styles, share design ideas, and answer any questions along the way. If you're looking to build or repair a fence that you and your neighbors are going to love, get a free estimate and let us help bring your project to life.
Get a Free Estimate