What is a Chain Link Fence?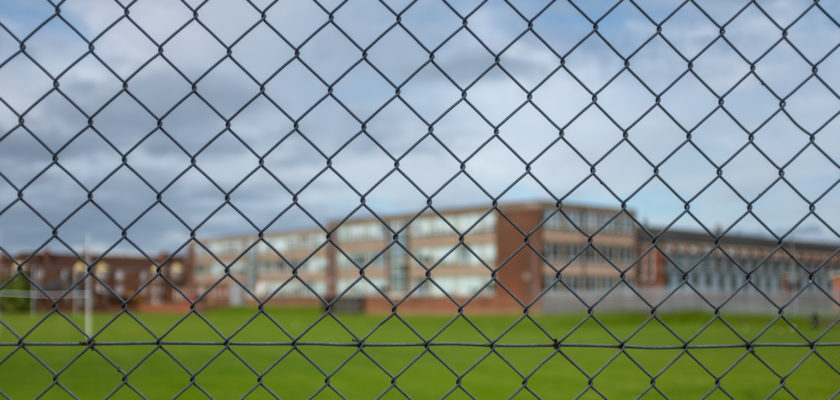 Chain link fencing is a type of woven fence made from coated mesh wire bent into zig-zag patterns so that it hooks with the wire on either side. Chain link runs vertically and forms a diamond pattern.
Chain link fencing most commonly delivers durability and functionality in both commercial and residential settings, but can also be a top choice for secure enclosures, parks and recreation, and high security environments, too.
Although the fence style has a long history, it's as popular today as back in 1855 when Bishop & Barnard developed the first patent for the chain link fence. Much has changed about chain link fencing since this time, but its trustworthy protection has only improved. That's how chain link fencing has maintained popularity for so long.
What are the Benefits of the Chain Link Fence?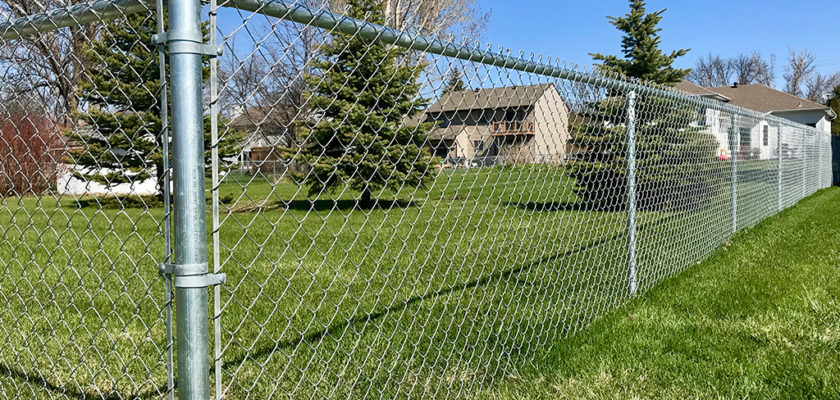 Whether you are looking to enclose your residential or commercial property, chain link fencing offers benefits you are sure to appreciate.
Easy to Install: Need a fence that is easy and quick to install? Chain link fencing can be installed quicker than most other types of fences -and for a fraction of the cost.
Affordability: Price often plays first into our purchase decision. Chain link fencing is among the least expensive options to install on your property. Even with a limited budget, chain link fencing never costs more than you can afford.
Variety: Chain link fencing can be customized to your specific needs, including varying heights, gauges, and color coatings. The easy customizations chain link fencing offers ensures it can be used for many different applications.
Visibility: Chain link is 100% see-through. The visibility remains one of its biggest benefits since you can see people approaching the area, receiving sunlight, and enjoying more freedom than a traditional fence offers.
Durability: Made from interlocking coated steel wire, chain link fencing is one of the toughest, most durable fencing materials available. It is less susceptible to weather-related damage and easy to take care of after installation.
Low Maintenance: Once installed, chain link fencing takes care of itself. Whether you choose galvanized, vinyl, or aluminized coating, it will not rust or damage. Keep grass trimmed and you are set!
Versatile: Design the chain link fence to your specifications, whether that's waist-high or 20-foot in the air, with a barbed wire top or other customizations. You control every aspect of the chain link fencing design.
What are the Downsides of Chain Link Fencing?
Chain link fencing offers great benefits, but learning the downsides is important because there are a few to be aware of before installation. Among the most notable downside of chain link fencing:
Protection: Chain link fencing doesn't offer the protection of a solid wall unlike other fencing styles. This leaves the property susceptible to wind/weather damages.
Resale Value: Do not expect chain link fencing to do much for the resell value of the house. Other fencing styles, like privacy fences, however, do add value to the home.
Negative Impression: The inexpensive price chain link fencing offers may cause other people to gain the impression that your home features "cheap" fixtures.
What are the uses for Chain Link Fences?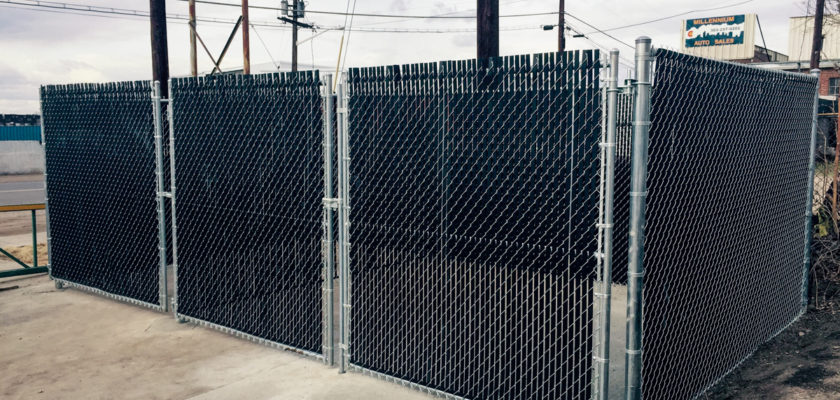 There are numerous applications for chain link fencing at both residential and commercial properties. The fencing material is chosen often for the following uses:
Containing People/Animals: At residential locations, chain link fencing oftentimes serve as a boundary line to keep pets and kids inside a specified area.
Sense of Security: Chain link fencing does not hide anything from view. It gives business and homeowners a sense of security and added protection of their property.
Security: Whether it is residential or commercial property, chain link fences keep trespassers off your property. Barbed wire atop the fence or other added security measures adds further security to the fence.
Sports Fields: Baseball parks and other types of sports fields use chain link fences to mark boundaries for players, fans, and the stadium, as well as to add height to the stadium to keep foul balls inside.
Schools: Schools use chain link fences to protect playgrounds and other outdoor areas.
High Security Areas: high security areas protect their buildings/facilities with many devices, including chain link fences that help keep intruders and trespassers out.
What are the Different Types of Chain Link Fences?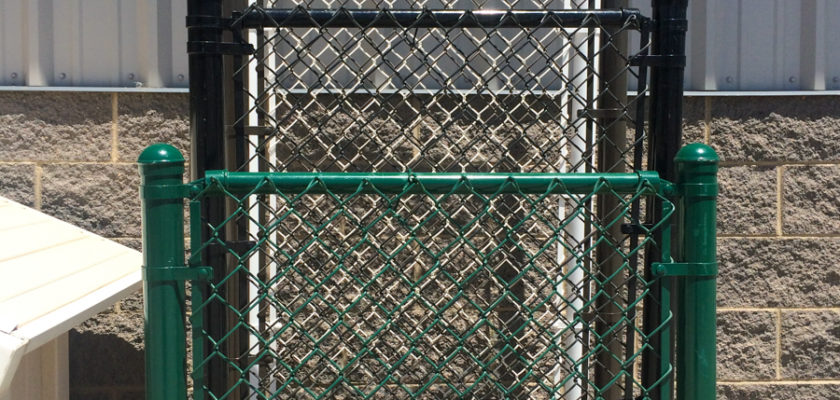 For a modest price, chain link fencing provides a barrier around your property with a variety of types of fencing choices to accommodate most every need.
Galvanized: This chain link style adorns most properties. Made entirely from metal, the galvanized coating resolves any issues with rusting and creates a more durable, attractive fence.
PVC/Polymer Coatings: PVC and polymer coatings are more expensive than galvanized coatings but offer more aesthetically pleasing style. This chain link style works great at residential properties.
Slatted Fencing: Slatted chain link fencing adds slat inserts to a pre-built chain link fence or onto a newly constructed fence, giving homeowners and business owners added coverage and privacy.
Color Coatings: Available in various colors to accommodate sports leagues, schools, and more, color coating chain link fences give more attractive style when installed onto a property. Green, blue, and red are among the color choices.
What are the Different Parts & Components of a Chain Link Fence?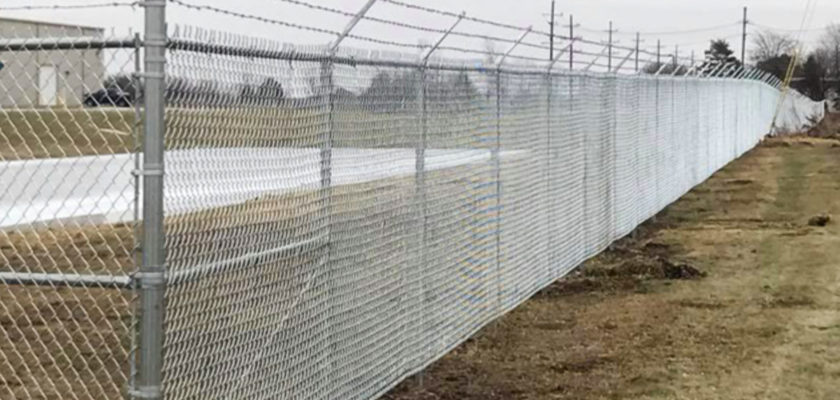 Chain link fences consist of four main components when correctly installed:
Framework: The most important component of the chain link fence is the framework. It consists of steel tubing that acts as posts, creating a frame for the steel mesh to be hung. The posts are placed into the ground and filled with concrete to secure the mesh fabric in place.
Mesh Fabric: The steel mesh fabric is bent and interlocked into a flexible but sturdy fence. Different gauges of wire create barriers for homes, schools, and other locations. Most mesh fabric has galvanized coating on top to create added corrosion resistance.
Fittings: Fittings create a strong barrier for the fence. This includes top caps that sit on the top end of the posts and rail ends to keep the bottom rails in place. Tension bands keep the mesh fabric together and prevent it from moving from supports.
Gates: Chain link fencing needs some type of gate. This may be a hinged, passable gate or a long, supported gate for cars to pass through or other types of gates.
How Can You Add Privacy to a Chain Link Fence?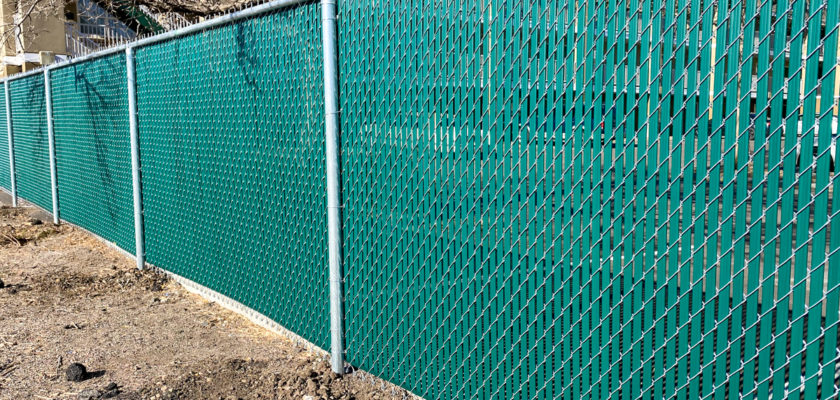 As discussed, the biggest feature missing from chain link fencing is privacy. Not all is lost, however, as there are numerous ways to add privacy to this style fence.
A few simple solutions for homeowners looking to add privacy to their chain link fence:
Install Chain Link Slats: Chain link slats weave between the links, running in a vertical or diagonal direction. The slats come in a variety of colors. While slats do not give 100% privacy, they do immensely reduce visibility.
Greenery: If you don't mind the upkeep, adding vines, plants, or other greenery to the chain link fencing adds a decorative touch as well as added privacy. You also gain an exciting hobby as you delve into the world of gardening and may increase the value of your property.
Increase Fence Height: Adding height to the current fence could provide additional privacy, especially if the current height is the four-foot version. DIY extension poles attach to the top rail of the fence for homeowners seeking an affordable way to add height to their fence.
Consider Another Fence Type: For more privacy, consider a privacy fence, a wood fence, or one of the numerous other fence styles available from Denco.
How Much Does it Cost to Build a Chain Link Fence?
On average, the fence material costs between $5 and $20 per foot for materials and $10 to $20 per linear foot for installation. Home Advisor reports the national average cost to install chain link fencing to be $2,156.
Add an additional $5,000 to the cost of the fence if it will stand six-foot-tall or higher. Thicker-gauge mesh wiring and upgraded materials also increase the price of the fence. Expect to pay as much as $40 per linear foot in these circumstances with an additional 25% to 50% of the total cost added for installation costs.
Looking for More Information?
If you're considering chain link fencing for your Denver property, the professionals at Denco can help explore your options, answer questions, and otherwise help make installation a reality. We'll help every step of the way, from choosing the right type of fencing to meet your needs to the best customizations.
Helpful links
Contact us today to request a free, no-obligation estimate or to speak to one of our experts.
Need an expert opinion? Talk to our experts today!
When you talk to our experts at Denco Fence Company, we'll help you compare fence styles, share design ideas, and answer any questions along the way. If you're looking to build or repair a fence that you and your neighbors are going to love, get a free estimate and let us help bring your project to life.
Get a Free Estimate